Welcome to Alta!
Here in Alta, you can admire the northern lights in winter and enjoy long days with the midnight sun in summer, while discovering Sapmi culture, arctic pristine nature and UNESCO World Heritage-listed petroglyphs.
Day 1
Arrival in Alta, transport to Gargia Lodge
Gargia Lodge - 2 nights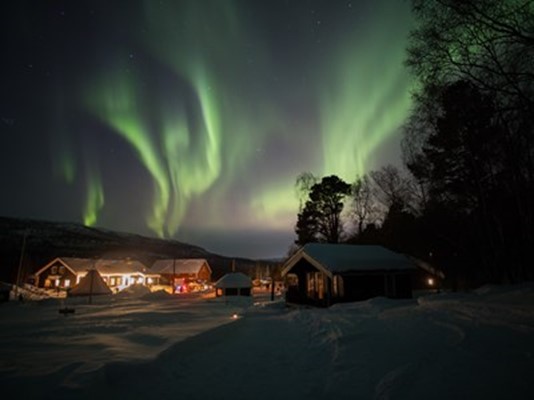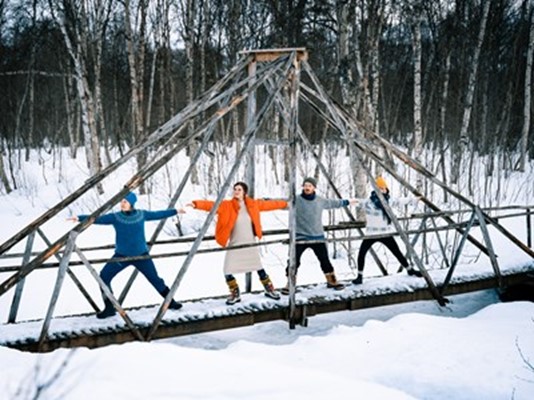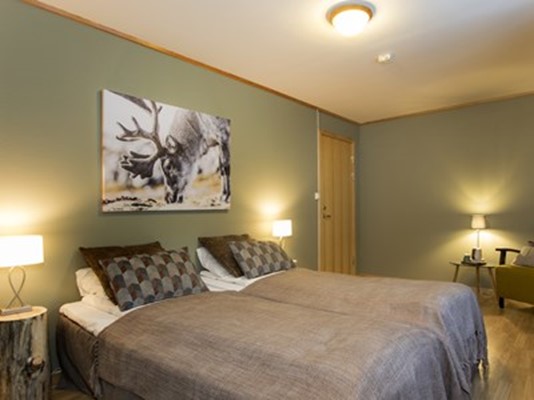 This is where your journey begins.
On the outskirts of Alta, at the foot of the Finnmarksvidda mountain plateau, you will find Gargia Lodge. Surrounded by pristine nature, a place for those looking for a unique experience and exciting adventures all year round. Enjoy a quiet and peaceful atmosphere away from the busy city.
At Gargia Lodge, we offer traditional accommodation and exciting experiences in nature, both in winter and summer.
Day 2
Snowmobile adventure 4 hours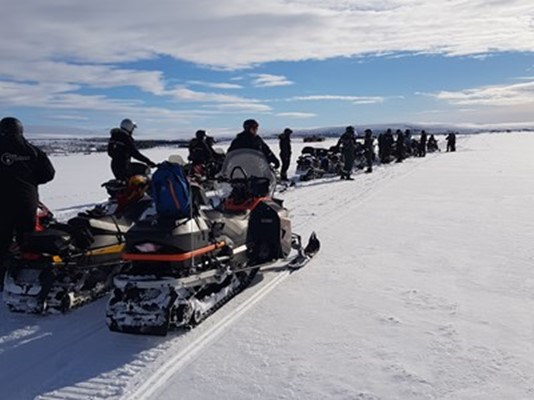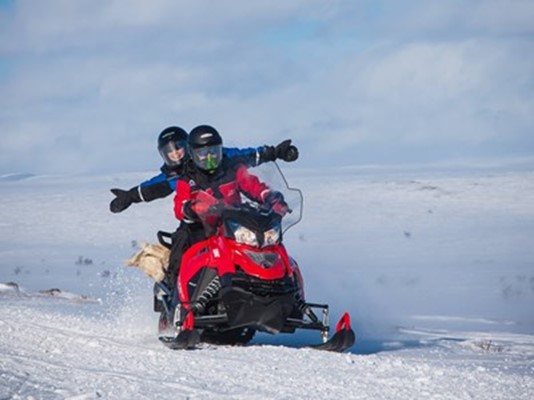 Finnmark is home to the vast Finnmarksvidda, Europe's largest mountain plateau. With expansive views in all directions, Finnmarksvidda is the ideal location to explore by snowmobile.
On this trip, we will take you along the old post road up to the edge of Finnmarksvidda to a mountain range called Beskardes. Amazing views await, and an adventurous snowmobile ride.
No experience is required to drive a snowmobile. All you need is an ordinary driving licence, and it is as easy as it is fun. A thorough safety introduction and riding instruction are given before the trip begins. You will ride in pairs, a driver and a passenger on each snowmobile, with the possibility of changing places during the trip.
The trip takes about 4 hours.
Sorrisniva - Igloo Hotel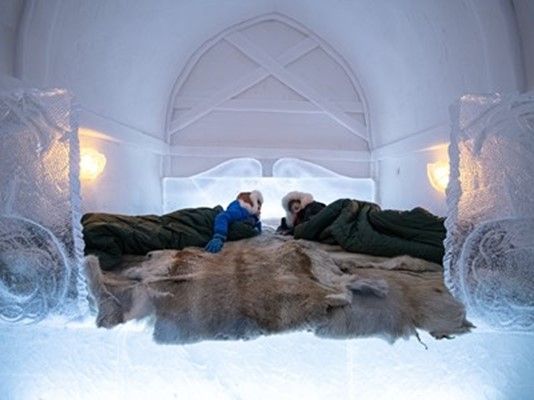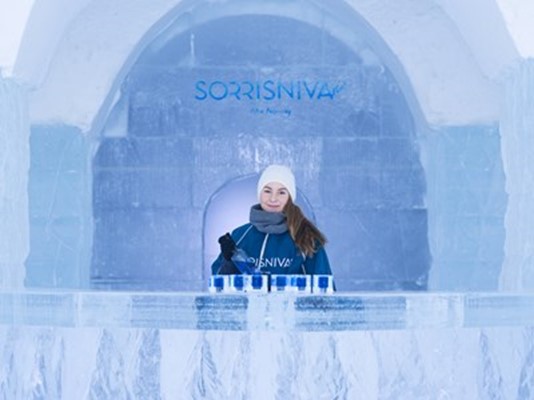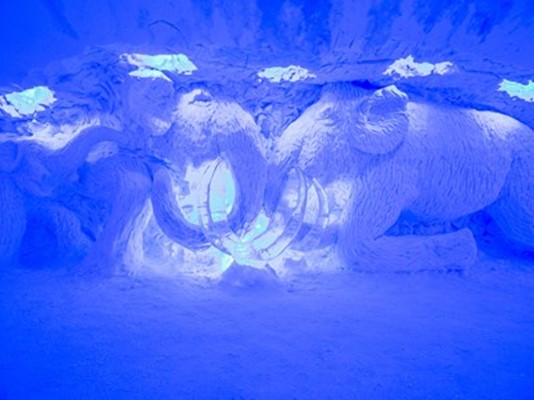 Feel the magic. Behold the detailed works of art. And enter a frozen world of possibilities. At Sorrisniva, we build a brand new Igloo Hotel in early winter. The Igloo Hotel stands from 20 December to 7 April every year. Designed with a unique and original theme, the Igloo Hotel is built and crafted by a team of local artists.
Sami Siida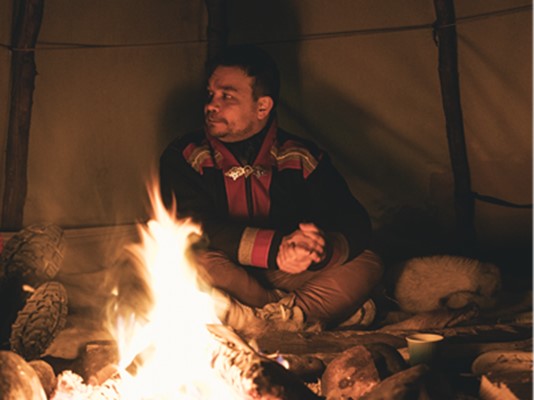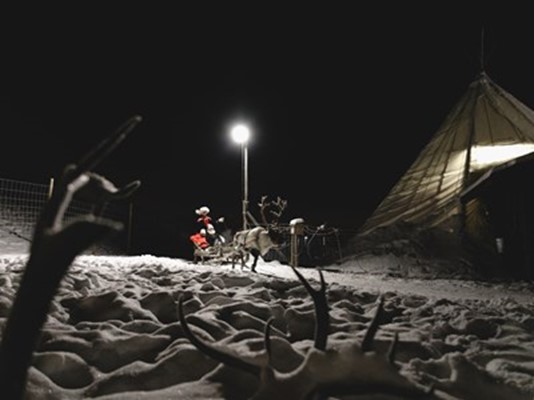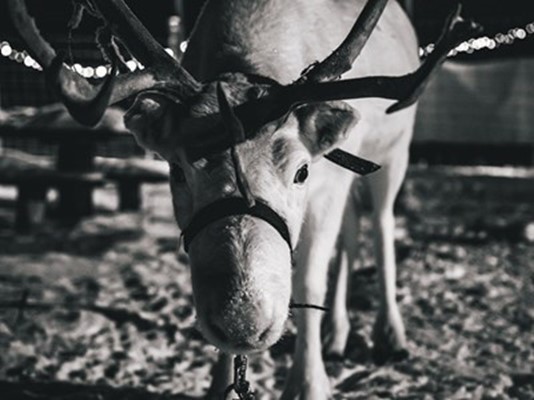 Come and greet us and the reindeer and experience unique and genuine Sami experiences.
On arrival at Sami Siida, you will be greeted by real reindeer herding Sami. You will be given a guided tour of the siida, where you will learn more about the Sapmi culture, history and lifestyle.
Lasso throwing is an important tradition for reindeer herders. The host will show you how to throw a lasso in the traditional Sapmi way. Take a traditional Sami sleigh ride with reindeer or enjoy the fire and listen to the yoik and legends we have to tell. Experience the magic of the Northern Lights from the lavvo or out in nature with the reindeer. You will be served Bidos, a traditional Sapmi meal of reindeer meat, roots and potatoes. This dish is served with bread and water/juice alongside campfire coffee after the meal. While enjoying the campfire, you will get to see traditional entertainment from the host.
There will also be an opportunity to buy soft drinks or alcohol.
Day 3 to day 6
Four-day ski adventure across the Finnmark plateau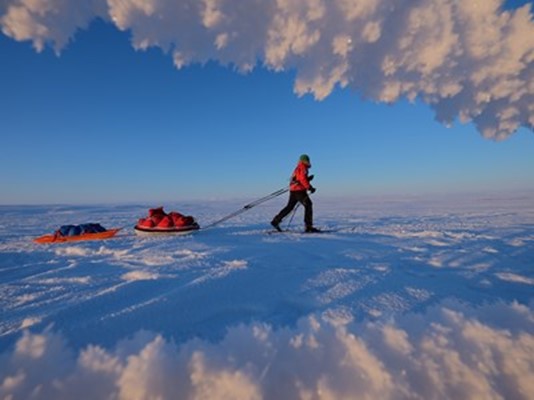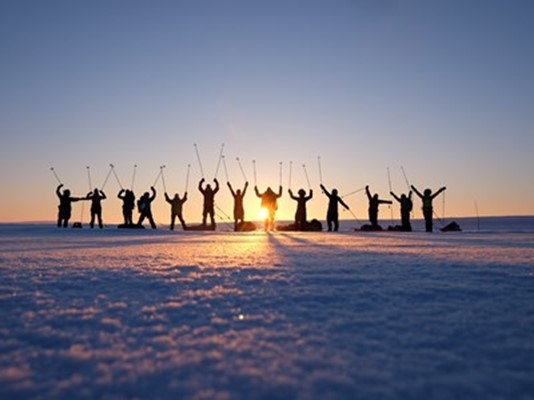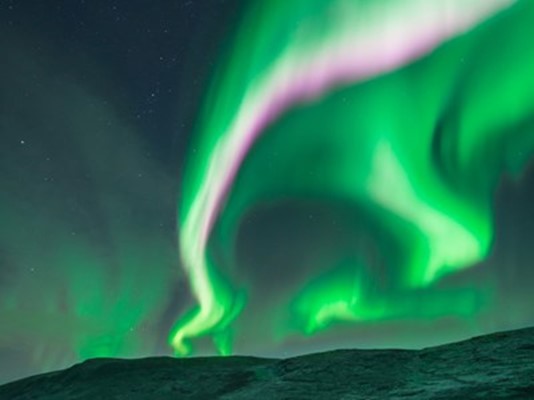 Join us on an unforgettable four-day trek across the frozen tundra on the Finnmarksvidda.
ABOUT THE ADVENTURE
The trip offers you everything a ski adventure across the plains should include, with beautiful scenery, long days on skis, changing weather and opportunities for northern lights in the night sky.
Together, we cover a distance of about 90 km, from Stilla in Alta to Assebakti in Karasjok. The longest and perhaps most difficult day is when we cross Finnmark's largest lake, Lesjavri. Along the way, we spend the nights in heated mountain huts and are served warm and tasty meals in the evening. It is also possible to add a sauna and bedding in the mountain huts as an extra luxury.
Once back in Alta, meet upstairs in the yoga studio on the 4th floor of our hotel for a well-deserved sauna ritual after all those hours of skiing in the cold.
Note that accommodation before and after the trip is not included, but we offer a 20% discount on our hotel for our guests on this trip.
YOUR GUIDE
"Hello, my name is Hans-Petter and I have been guiding people across Finnmarksvidda since 2015 and I look forward to giving you a great trip this winter."
Hans-Petter is originally from Oslo, but has been living in Alta for the last eight years and can therefore be called a local guide with his knowledge of Finnmarksvidda and the climate here in the north. He is down to earth, friendly and a person who has spread the joy of being outdoors and inspired many people to become more active. He is the kind of guy who will go out of his way to give the group the best possible experience and he will take good care of you.
He has a degree in Arctic Nature Guiding from UiT The Arctic University of Norway and a bachelor's degree in Arctic Nature Guiding and outdoor life. He has also just completed his masters degree within sports science. In addition, he is a supervisor at the local Red Cross. All this combined with his love of being in nature all year round makes him the perfect ski guide. For the few months when there are no skiing opportunities here, he is travelling, giving kayaking courses and teaching outdoors at UiT. He is also part of our beach cleaning crew.
The experience of having HP as your guide starts when you book your trip with us, he is thorough in his work and contacts you well before the trip. This gives you the best basis for being prepared and avoiding unnecessary stress, so you can just look forward to the trip.
THE JOURNEY
DAY 0
As the trip starts early on Saturday, you should arrive in Alta on Friday. In the evening, we will meet for an information session led by our guide, before you all head to the northernmost Italian restaurant for pizza and to get to know the people you will spend the next four days with.
DAY 1
After a delicious breakfast, we will put all our equipment in the car before driving from the centre of Alta to Stilla, where the ski expedition begins.
The first leg goes to Jotka Mountain Lodge, where Steinar and Lise will welcome us with a hot homemade meal. The distance on this day may vary, somewhere between 5-20 km, depending on when we start. This evening it might be a good idea to get a good night's sleep, as the next day we will cross Finnmarksviddas largest lake, Lesjavri. But before we go to bed, we can try out the sauna and wood-fired hot tub (this is not included in the price).
DAY 2
The next morning we wake up refreshed and ready for a long day. This will be a day with many hours of skiing and we will cover a total of 30 km. It is therefore important that we have a good breakfast and pack a good lunch this day.
You will feel small compared to the beautiful surroundings we will find ourselves in today. The temperature can drop to - 20 degrees Celsius when the sun goes down, so here it is important to dress well from head to toe and keep hydrated and energised throughout the day. Our guide also has some special delicacies that you will get to taste during the trek. On arrival at the next mountain hut; Mollisjok, you will be ready for a hot meal and fall asleep almost before your head reaches the pillow.
DAY 3
On this day, you are likely to wake up with a slightly exhausted body, but are relatively awake and ready for another day of skiing. Before leaving for the final mountain hut, there will be a good breakfast and packing your lunch. We pass through areas of endless plains that are exposed to wind and weather and rarely windless. These areas are called "Hundevidda" and are known among Finnmarksløpets participants. Towards the end of the day, we descend into the valley, passing small birch trees, before arriving at the last mountain hut, Ravnastua.
Today's stage is just under 30 km. This mountain lodge has been run by the same family since after World War II, so there is a lot of history hanging on the walls of the lodge. During the war, the whole lodge burned down, but they rebuilt it and it is the same lodge we see today.
DAY 4
Last day and last stage, today we're going with our winter coats on through a fairytale birch forest and maybe if we're lucky we'll see both grouse and a fox along the way. After about 8 km, we start to feel wind in our hair and gain some momentum towards Assebakti and the national road to Karasjok. At the bottom of the road, we are greeted with a real "Viddas Bellini" before starting the 3-hour drive back to Alta.
Back at the Canyon Hotel, we will have a joint Sauna Ritual before taking a shower and getting ready for the flight back home.
PREPARATION Equipment:
You will receive a complete package list after booking the expedition with us. Here is a brief overview of the equipment and clothing you will need on this trip. If you have any questions, please contact us!
Skis, poles and ski boots
Woolen underwear X 2
Windproof jacket and trousers
Warm hat and gloves
Thick down jacket
Warm woollen jumper
Sleeping bag (can be rented from us)
Toiletries, sunglasses, headlamp
Drinking bottle and thermos (min. 1 litre each)
Lying/seating mat
Large daypack (approx. 60l)
Other equipment such as a pulk can be hired from us.
Difficulty
To take part in this trip, you should have some experience of the outdoors and skiing and be in generally good physical condition, as it can be 10-12 hours of skiing each day. Allow for temperatures of up to -10-20 degrees in March and April when you pack. You should be able to pull or carry your own equipment, but there is no need to carry heavy food or tents, as we live in mountain huts. Pulling a sled on snow can also be much easier than carrying the equipment in a backpack, and if you don't have your own sled, we have sleds for hire. We have a guide for every sixth guest, this means we have small groups and can adapt to the level of each individual participant.
If you are unsure of your own level or the physical requirements of this tour, do not hesitate to contact us. We want to make the trip as comfortable as possible, and your expectations as realistic as possible.
Day 6
Canyon Hotel - 1 night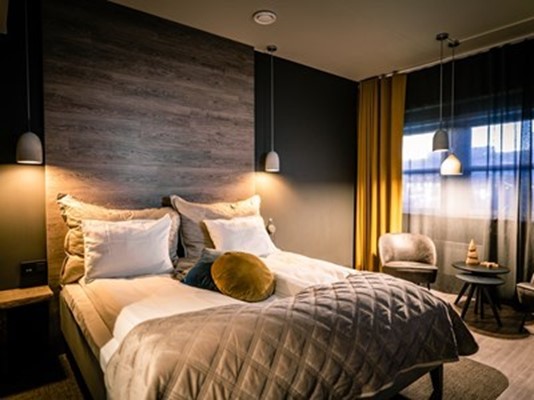 Canyon Hotell opened after a total renovation in summer 2019. Located in the heart of Alta, our vision is to let guests discover the beautiful history and nature in and around Alta. All our rooms are made with local materials and decorated in a rustic, beautiful and comfortable style.
Farewell dinner at Stakeriet Mat & Vinhus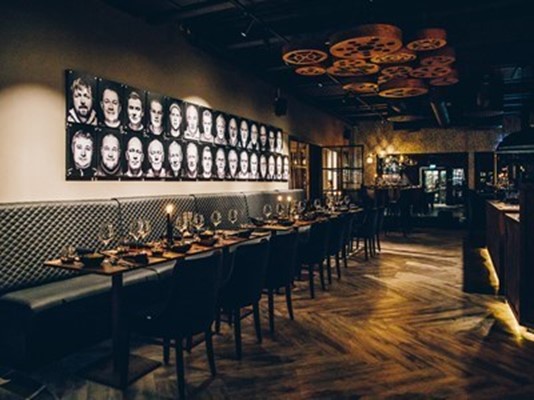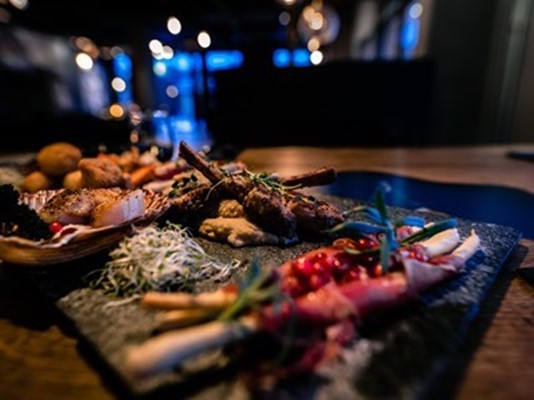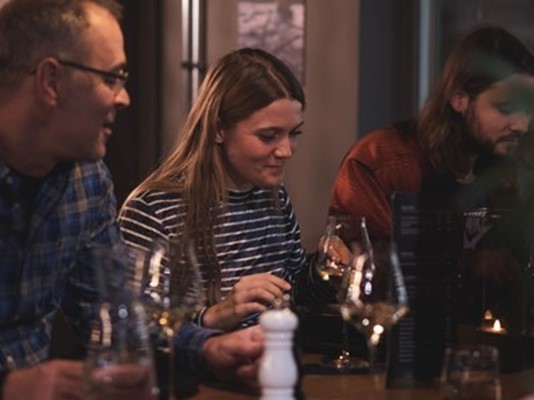 Dag 7
Alattio Pizza and Pasta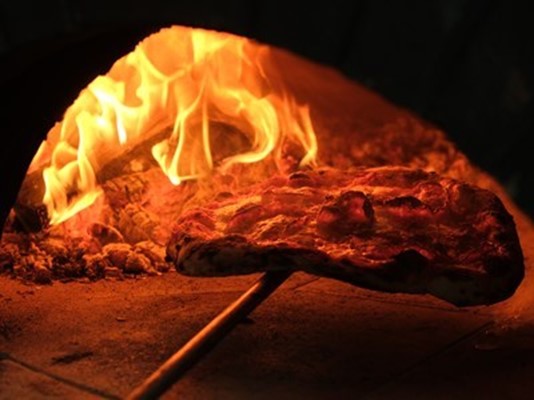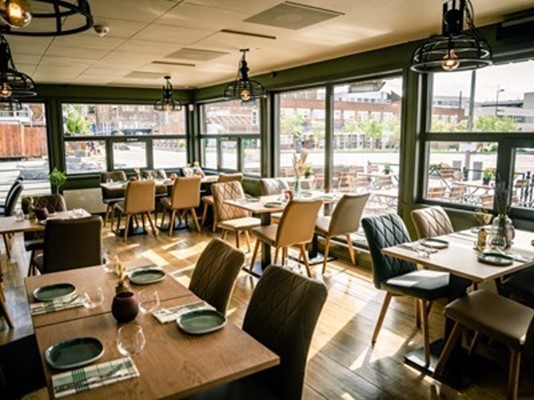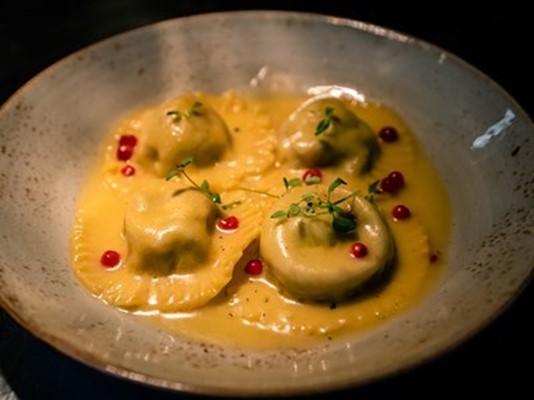 Our concept is to bring authentic Italian dishes to you in Alta.
To ensure that our dishes are as authentic and delicious as possible, we have invested in the very best equipment. All our pizzas are baked in a wood-fired oven and we also make everything ourselves, from the dough to the sauce.
We developed the recipes and menu together with our chef Christian, who has moved from Italy to Alta to join our Alattio team and bring you only the best Italian experience.
Day 1
18:50 Arrival at the airport
Transfer airport - Gargia Lodge
Check-in to a double room for 2 nights at Gargia Lodge
Welcome dinner in the lavvu or Gargia Gallery.
Presentation of Gargia Lodge, the area, and a brief introduction to the program
All rooms have access to snowshoes and cross-country skis at Gargia Lodge
Day 2
09:00 Breakfast
09:30-13:30 Snowmobile adventure including lunch (outdoor) (4 hours)
14:00 Transfer Gargia Lodge - Sorrisniva
14:30 Guided tour in the Ice Hotel with an ice drink
16:00 Transfer Sorrisniva - Sami Siida
16:30-19:30 Sami experience and dinner event
19:30 Transfer Sami Siida - Gargia Lodge
20:00 Time to pack and prepare for the next day
Day 3-6
Four-day ski adventure across the Finnmark Plateau
Check-in at Canyon Hotel for 1 night
Farewell dinner at Stakeriet mat & vinhus Nordic gourmet tapas
Day 7
08:00-10:00 Breakfast
11:30 Check-out
11:45 Lunch at Alattio
12:45 Transfer to the airport
14:10 Departure
Price per person in a shared double room: 29,800 NOK
Price per person in a single room: 31,950 NOK