The Anantara Vilamoura Algarve Resort & Spa is a quietly located and well-maintained 5-star hotel residence with comfortable rooms, spacious infrastructure and professional service. The refined gastronomy deserves special attention: both breakfast buffet and dinner are of high quality.
The fish restaurant Ria has no fewer than three sommeliers. It is wonderful to relax by the pool surrounded by palm trees, lounge chairs and (again) a great pool restaurant. There is also plenty to enjoy when it comes to golf: the prestigious Victoria championship course is at your feet and the other Vilamoura courses are never far away.
GOLF COURSES (All 3 within walking distance of the hotel.)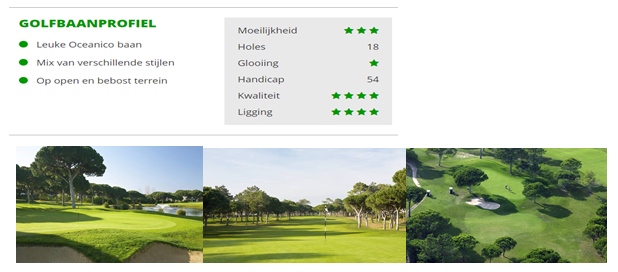 PINHAL This course was designed by the English architect Frank Pennink and the American Robert Trent Jones and therefore shows a combination of different styles. Pinhal has a fun, varied trail, partly through a pine forest and partly in an open trail with a view of the ocean. Kind and forgiving. Handicap 28/36, but handicap 54 is also allowed in the afternoon.
LAGUNA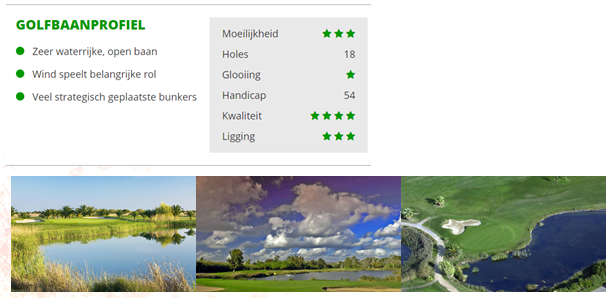 Laguna is a nice, watery 'left-like' course that leads to the Vilamoura marina. This tough course has few trees, but a nice layout. Lots of wind and water. Handicap 28/36, but handicap 54 is also allowed in the afternoon.
VICTORIA GOLF COURSE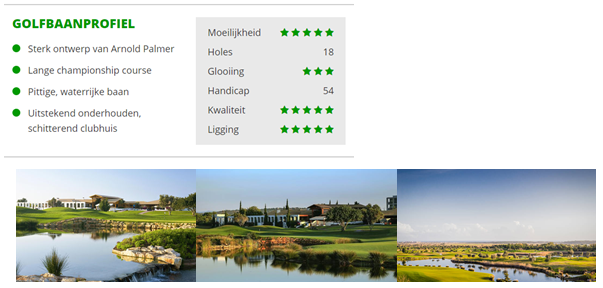 The Victoria Golf Course is a very exclusive and water-rich course that ranks among the top players in the Algarve. Arnold Palmer drew a typical British links course here. A difficulty factor is the length, the many strategically placed bunkers, the large sloping greens and the water that comes into play at 7 holes.
Wake up with one of Europe's finest golf courses right on your doorstep.
The Anantara Vilamoura has a privileged location overlooking the lush expanse of Victoria Golf Course, where the Portugal Masters is held every year.
Take advantage of the exclusive benefits, including private transfer to all Vilamoura golf courses, as well as Anantara's own Golf Guru, who can offer you professional suggestions and advice.
Nearest Golf Courses
Laguna, Millennium and Victoria: Adjacent.
Old Course (1 km): The second oldest fairway in the Algarve, located in a pine wood where you can enjoy a smooth outline.
Pinhal (1 km): Nine quiet holes spread between holiday homes and a pine wood.
Pestana Vila Sol (6 km): Competition field set in 30 hectares of stunning nature, from the almond trees to fig trees, to the picturesque streams and lakes.
Vale de Lobo Royal and Ocean (13 km): Competition field designed for experienced players with a last challenging hole and twin field designed by Sir Henry Cotton.
Quinta do Lago North, South and Laranjal (16 km): Well-maintained panoramic fields located in the luxurious Quinta do Lago. The Laranjal opened in 2009, while the other two golf courses were reformulated in 2014.
Pinheiros Altos (19 km): Challenging competition course known for well-distributed hazards and excellent onsite facilities, from the clubhouse to the gym.
Salgados (25 km): Situated in front of Galé Beach, this course confronts players with hazards in the water and the breeze of the coast.
INCLUDING
The direct flights from Brussels to Faro with SN Brussels Airlines (Light & relax class).
for a value of 260 EUR per person (Includes airport and fuel tax, subject to possible changes.)
Timetable:
Thursday Departure from Brussels SN 3801 - 07:00 - Arrival at Faro 08:55
Monday Departure Faro SN 3802 - 09:45 - Arrival Brussels. 11.40 am
4 nights in the ANANTARA GOLF & SPA RESORT in VILAMOURA. (5 *) in your chosen room type.
The transfers by luxury coach from the airport to the hotel and back.
A welcome drink on arrival. (1 glass of house wine red or white, 1 beer or 1 soft drink)
The full board (Breakfast / lunch / dinner)
The drinks during lunch and dinner. (house wine / local beer / soft drinks / water / coffee)
3 Green Fees 18 Holes (1 x Victoria / 1 x Laguna / 1 x Pinhal) for the golfers.
A meeting room available for 4 evenings
The cover against financial insolvency by AMLIN through the VVR.

NOT INCLUDED

Golf lessons. These are held on the practice area of ​​the Victoria Golf course and taught by our golf GURU Tomas, a professional Portuguese golfer.
Driving range / Chipping green / putting green /:
1 hour: single EUR 70 2 persons: EUR 90.
Package of 5 lessons: single EUR 276 2 persons: EUR 345
Golf lessons on the golf course by Tomas de golfGURU
9 holes - Green fee + EUR 69 per person
18 holes - Green fee + EUR 138 per person
These lessons are only open to players with a minimum HCP (28 for men and 38 for women) and a minimum of 1 lesson on the Driving range.
Golf Clinic accompanied by a golfPRO (2 hours) 5 to 10 people: EUR 65 per person.
Golf equipment: can be rented or purchased from the Victoria Golf Court's Golf shop.
(Payable locally)
Extra Green fees.
The transport of the golf bags by Brussels Airlines: 100 EUR p.p. to pay extra.
Extra drinks at the table.
Assistance and / or cancellation insurance: Premium Top Europe 80 EUR p / p cancellation included.
For more information see www.sunassistance.com.
A possible ladies program. (ex: Spice Spoon Experience)
The various participants leave on Saturday morning with the chef for the market in Loulé. A must during a stay in the Algarve. On site they get an extensive tour and the herbs are explained. The purchases are taken back to the hotel. Afterwards, a typical dish from the Algarve is prepared that is also eaten together afterwards.
150 EUR per person.
The Belgian VAT of 2.73%. (Special arrangement for travel agents)